The second Annual
(last year's was called Gospelfest)
Praise Jesus Fest
Click here for pictures from Gospelfest 2002
was held
Saturday Sept. 27th, 2003
1 PM to 6:30 PM
At the Gazebo on the Prairie Path in Villa Park, IL.
The weather was cold but the Holy Spirit was warm
Beracah


Beracah warmed up the stage with 2 excellent 45 minute sets
Thank you for coming all the way from Indianapolis for this concert

PBforJ (Paul & Bernadette for Jesus)

Left to right is: Bernadette Parrick vocals & flute, Darlene Wentland-Wicktor on Bass, Paul Ellingsen on guitar vocals & harmonica, & John Kiefer on percussion.
Kurt & Leslie Wessman & Goth Girl




Kurt & Leslie did a rocking set

Laura Heinrichs did an excellent job
playing the Goth Girl


Elliot Wimbush & Substance

Stanley Ratliff & the Voices of Lawndale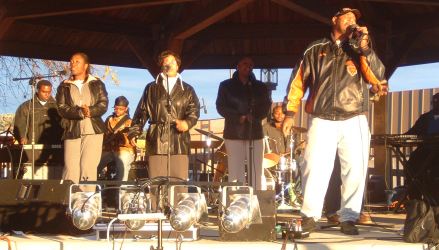 As soon as Stanley Ratliff & the Voices of Lawndale got on the stage the sun came out & the temperature warmed up about 10 degrees.
God is good all the time, but he gave a little extra warmth to Stanley's performance, that day.
Thank You Jesus!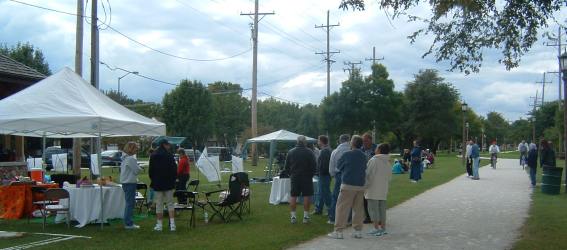 Thank you to all the people that braved the cold & missed the Cubs game to come out to hear His Praises. Thank you to all the people that helped plan & run the Praise Jesus Fest. Thank you to Gail Ciarrachi & the friends of Jesus for doing all of the things between the bands, & for doing the prayer tent. including Laura Heinrichs (the Goth girl), Nora Spezial, Betty Berg, Rina Jorosh, Katy Hurst, Tom Nixon, Sherah Baumgarten, Ann

Baumgarten, Allison Fletcher, Hilary Gray, Jennifer Lennon, & Sarah Lennon.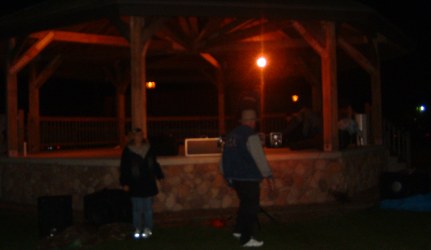 Thank you to all of the people who stayed late 'till everything was taken down & cleaned up, including:
Dennis, Bernadette, & Justin Patrick, Darlene & Kyle Wiktor, John Kiefer, & Tom Schiovone.





All Sound equipment was provided by
John KieferLBD (Little Drummer Boy) sound

Thank you to the sound man from Beracah for
running the sound during Beracah & PBforJ

Thank you also to our 3rd sound man Tom Nixon


For more info e-mail me at: Paul@PBforJ.com
Pictures from last years Gospelfest | PBforJ web page
Beracah web page | Elliot Wimbush's web page
Celebrate Jesus Coffeehouse web page
Karitos Worship & Arts Conference