Eat at




Phil Robertson and Duck Dynasty
A "news" article that appeared on 1/26/2013 in usmagizine.com and was re-posted on yahoo and msn.com said about Phil Robertson, "the duck hunter sparked controversy last week after he made several homophobic and racially charged remarks in an interview published in the January 2014 issue of GQ."
The liberal news media makes a habit of lying. If they can't make a person who believes the Bible sound bad they will make something up. There were no "racially charged remarks" that I saw. He said the black people he worked with in the fields in pre civil rights days were happy and Godly people. Furthermore, Phil Robertson's remarks were not homo-phobic they were God-phobic. A&E is homo-phobic and truth-phobic. There's way too much redefining of the English language by liberals. As George Orwell predicted if you can rewrite the language you can brainwash people


God is not a Republican! God is not a Democrat!
But I know that He's pro Life and I know He's pro traditional marriage!


If the things that are important to God are not the things that are important to you, maybe you should examine yourself to see if you really are a Christian. I really do not understand how a

Christian could praise the Lord on Sunday and then vote for the pro-abortion candidate on Tuesday.

(Psalm 139:13, Matt 18:10, Romans chapter 1, 1 Cor 6:9-11, 2 Cor 13:5, Jer 1:5, Luke 1:42-45 )
Were the teachings of Jesus Socialist or Communist? Click here for the answer
I often hear people say something like, "When I meet God I will tell Him, 'blah, blah, blah.' " I know that when

I

meet God, face to face on judgment day, my jaw will drop to the floor and I will be speechless. When I stand before the one who was pierced for my transgressions and bruised for my iniquities, all excuses will flee from me and I will know that the only way I will enter into His kingdom is through the blood of the Lamb! (Isa 6, Isa 53:5, Rev 12:11)
Paul D Ellingsen


We have finished our newest CD!

Paul and Cece Ellingsen

(Formerly PBforJ)

2013 Page


You can listen to us on Jango radio, Last FM, Rhapsody, Napster, Spotify, and Media Net, just type Cece and Me, PBforJ, or Paul Ellingsen into the artist search.
You can also buy our ringtones from Verizon.

Important Notice:
If you have a "No Hope But for Jesus" CD that has a lot of scatchy noise on some of the tracks please let me know and I will send you a new remastered edition no charge. Sorry!


If you have any trouble with any of our CDs please let me know and I will send you another!




Our Semi-regular Engagements:

We usually lead worship at the 6 PM Sunday evening service at the Overflowing Cup Coffeehouse in Beloit, WI.
We will not be leading Worship Nov 24th

Worship is supposed to start at 6 PM (but we're often a little late) with a message following.
http://www.overflowingcup.org/events.htm

Before playing the videos below please hit the stop button on the music player near the top of the page or both will play at the same time.

We will be playing at:

Dec 31st at the Overflowing Cup Coffeehouse in Beliot, WI New years eve party
| | | |
| --- | --- | --- |
| | | |
| Me | Cece | Dave Fogderud who with his wife Diana runs the Overflowing Cup |
We will be one of 4 groups playing at the Overflowing Cup Coffeehouse New years eve party 310 S State Street, Beloit, WI
Party starts at 7 PM with food on Dec 31st 2013.
We also lead worship there most Sunday nights at 6 PM We will not be there Jan 5th however Click here for directions

It was about 1 hour from Elgin, IL; however with the construction it is closer to and hour and 15 minutes.

The Overflowing Coffeehouse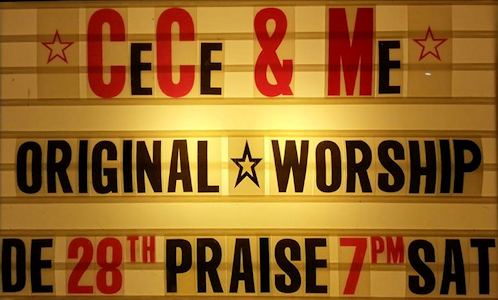 | | | |
| --- | --- | --- |
| | | |
| Butch & Me at the Overflowing Cup | Butch & Melisa at the Overflowing Cup | Cece and Me at the Overflowing Cup |
| | | |
| --- | --- | --- |
| | | |
| | | Pastor Dave of the Overflowing Cup Coffeehouse |
Singing for the Salvation Army at theVilla Park IL Walmart
Nov 29th 2013 (The Day after Thanksgiving)

| | | |
| --- | --- | --- |
| | | |
| | | That's Cece's new U-Bass we bought recently at Sam Ash in Lombard IL |
We also Sang at the Elgin Walmart Dec 14th and for the TLC Pregnancy Services Christmas party but unfortunatly didn't get any pictures.

Villa Park VFW hall
Nov 11th 2013

We often came out to the VFW open mic night the 3rd Sat of every month run by Evelyn Oaks www.evoakes.com
They have an excellent fish fry that begins at 5:30. The open mic starts at 7
39 E St Charles Rd, Villa Park, IL 60181
We are usually near the begining because I have to work Friday nights.
Thank you Scott for taking these pictures.

Jesus House Bloomington, IL Sept 28th 2013

Thank you Bonnie & Tom for inviting us!


Walk for Moms and Babies Sept 21st, 2013
Lord's Park Elgin, IL

Thanks for inviting us to play!
July 27th and 28th we played a concert and lead worship at: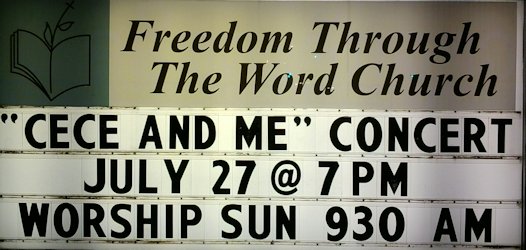 in Rockford IL
www.freedomthroughtheword.org

Thank you Randy, Tania, Joel, and Jack for inviting us.
Thank you Tania for taking these pictures

We played at Briensburg United Methodist Church Briensburg KY USA June 2nd 2013

Thank you for inviting us again Pastor Bill and Cheryl
We were scheduled to play on the square in Benton Saturday June 1st but unfortunately it rained all day.


We played a concert sponsored by Inspiration Riders that gave free motorcycle rides to residents at Inspiration Ministries in Fontana
Jesus House April 14th
Thank you Tom and Bonnie for having us back again!

We were honored to play at Good shepherd Church in Berwyn March 10th along with Allen Carlson, God's Workers, and Concert violinist Jenni Thompson
It was a cold wet rainy day outside but the concert was wonderful!
"Oh the weather outside was frightful but the concert was delightful


Feb. 2nd we did a farewell concert for Lemstone Christian store in Algonquin
Their last day open will be March 9th.
Things are deeply discounted so stop by and shop before March 9th

We had a small but intimate sitting audience but many people in the store told us that they really enjoyed the music while shopping. Lynn was nice enough to take us out to eat afterwards. Then Cece and I went out to the Overflowing cup Coffeehouse in Beloit Wi with the instruments still in the car. When we arrived we discovered that the band, "Men and Angels had canceled so we got out our instruments and did another show.

Every time I ask Melissa to take pictures us she takes sooooo many good ones that it's hard to pick out the best.


We played in the afternoon of the last day that Daniel's Den Coffeehouse was open Jan 19th 2013
To see last years pictures click here