We recently went to Israel with Joshua Aaron "Worship in Israel Tour"
WorshipInIsrael.com
It was really nice because besides Joshua we had a Messianic guide whose name is Yehuda. Also it was a really small group, only 9 people. That was probably because of the time of year and also possibly because of all the trouble in Israel at the moment. And of course I did bring a guitar with. I brought a Journey backpacker guitar that fits in the overhead bin. Although on the final flight from New York to Chicago they wouldn't let me stow it in the overhead and wanted me to check it in because all the overhead bins were full before I got on the plane. Fortunately there was a 2nd flight to Chicago an hour later that they let me take. Airlines are VERY rough on luggage. Cece had a brand new suitcase that looked like it had been dragged across the airfield after the first flight and Tom and Bonnie both had wheels broken on their suitcases.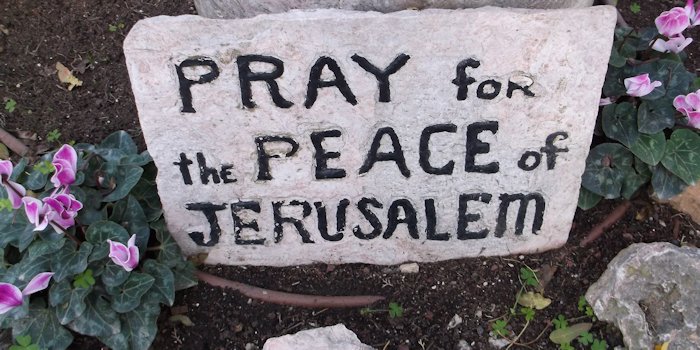 Sign from the "Garden Tomb"
One of the sites we visited in Israel was Beth Shan. This is where Saul Body was fastened as described in 1Sam 31
Joshua Aaron and Bonnie played a few songs there at the theater but unfortunately I didn't take any pictures of Bonnie.
Josh and I did a few songs by the Sea of Galilee in Caphernaum, the town of Jesus. I played "Power in the Blood" and "Blessed be the Name of the Lord." Josh sang some excellent harmonies. I was able to do a little harmonica backup on one of Josh's songs. Thankfully Cece took a few pictures. No video though, unfortunately.
A Sabbath dinner in Israel
We used to always play Christmas carols in front of WalMart the day after Thanksgiving, but couldn't this years because of our plans to visit "The Jesus House" on Thanksgiving and our trip to Israel shortly therafter. So we played Christmas Carols the Saturday before Thanksgiving at a KMart in Paducah for the Salvation Army. It was fun but cold and windy. We thought we would have BETTER weather in Ky this time of year
We often help out by either serving or playing music at the Community Kitchen in Paducah Ky
We played at the Ky Lake Mission Church Oct. 18th 2015
We played at the Overflowing Cup Coffeehouse July 11th 2015.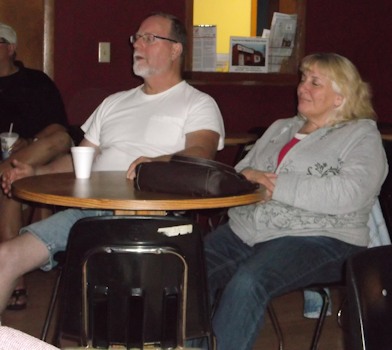 Our friends Randy and Ann from Elgin IL drove out to see us that night. Thank you for coming.
Then on Sunday July 12th we joined Jmmy Jack Whitaker at a little church in Belvidere IL. He said,"bring your guitars with" so we did a few songs as well. Thank you Jimmy.
We were honored to play at Butch and Melissa's wedding reception June 6th
We played at the morning service at the Kentucky Lake Mission Church May 31st.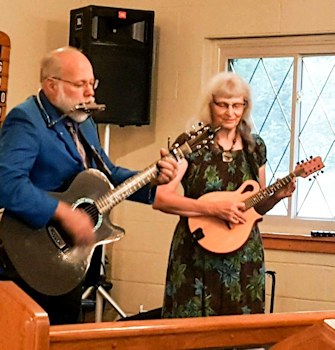 We played at Briensburg United Methodist Church Briensburg KY May 10th 2015 Thank you pastor Bill for inviting us.
We played at Kentucky Lake Mission Church in Gilbertsville KY April 26th 2015. Thank you Danny and Lee Ann for inviting us!
We played at "The Jesus House" April 18th 2015 Thank you Tom and Bonnie for inviting us.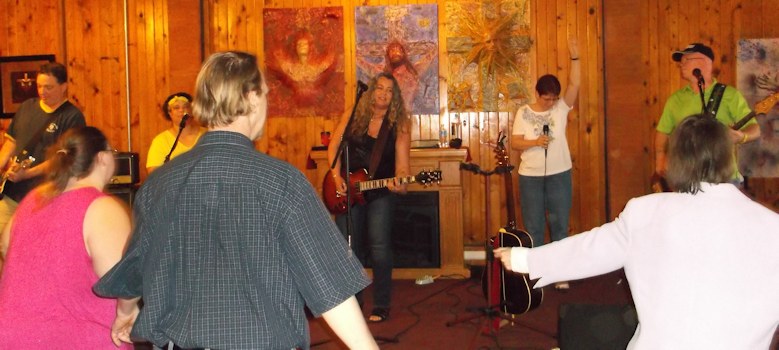 We also stayed for Sunday morning Church and worship Led by Bonnie.
Bonnie has written a autobiography that will be out soon called "
Tattooed by Jesus
"