I apologize that it has taken me 9 months to update the web page. We have been really busy with our restaurant Dad's Place near Benton Ky. Now that the tourist season is over we have cut back our hours for the fall so I have a little more time. We have not been playing many places in 2019 except for Dad's Place, The Overflowing Cup in Beloit WI last Jan and March, and we often play at the Tuesday evening open mic at Lucky's in Murray Ky. Recently Stephanie (who runs the open mic) took several pictures and videos which I though I would put on the page along with a video from the Overflowing Cup Coffeehouse in Beloit Wi last Jan.
We are currently working on a new CD which I hope to have out this winter.


King of Kings plays a huge variety of Christian music including some of ours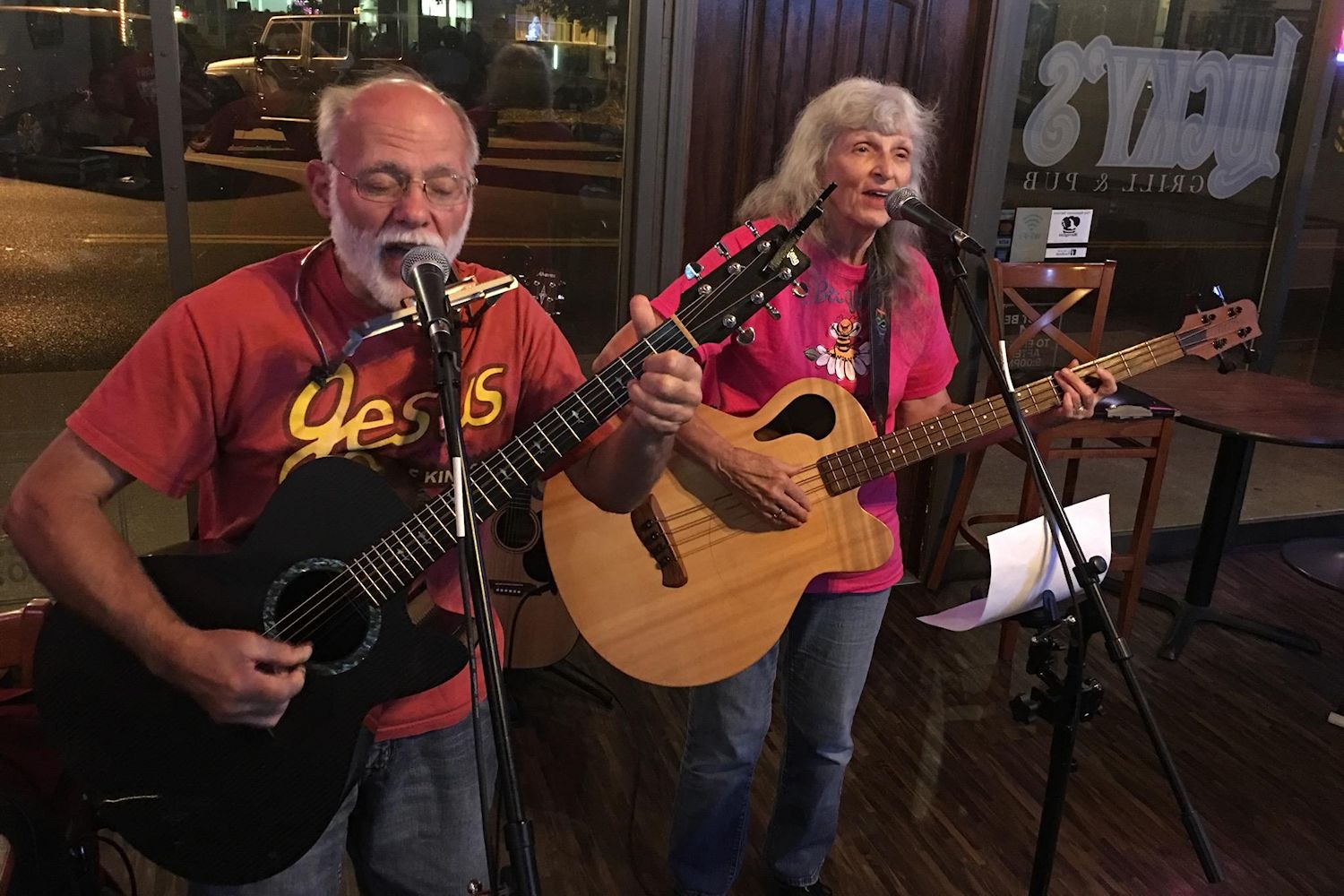 This is our newest CD, "Prepare Ye the Way of The Lord," released spring 2016
We are currently working on another, but it is difficult to find the time to work on it since we opened Dad's Place in Benton KY this year
We plan to have it finished this winter
Cece and I love to lead worship and led worship at "The Overflowing Cup" Coffee house in Beloit WI for 4 years. We did a mixture of old hymns, praise songs from the 80's, some of our original worship songs, and a few newer hymns and praise songs. I like the praise songs from the 80's because there is so much scripture in them. This CD has 5 of our songs that we sung at Overflowing Cup that were scripture put to music. One of my favorites is "A New Song" from Rev 5:8-14.
| | |
| --- | --- |
| Form Object | |
Buy at itunes
Download Chords and lyrics to "Prepare Ye The Way of the Lord" as a word Doc
---
Dan Lietha is the one who did the cover art for our newest CD. Dan is the Resident cartoonist for the Creation museum. He did a caricature of us when we were at an event for the Ark encounter, a full sized Noah's ark that was being built near Cincinnati OH by the Creation museum. It opened July 7th 2016. The caricature on the back of the CD was done by an artist many years ago at an amusement park. (You can tell it was a few years ago because I have hair.)
Here are a few of Dan's cartoons:
You can see more of Dan's art at:
https://www.facebook.com/dan.lietha.cartoonist
http://www.danltoons.com
https://answersingenesis.org/media/cartoons/after-eden
---
We will be playing at:


---

Stephane took these pictures at the open mic at Lucky's in Murray Ky Sept17th
Overflowing Cup Jan 2019
"The Road" from the CD of the same name


These videos are from Stephanie Thank you Stephanie
Boogie


"Winter in Springtime" This will be on our next CD


"Old Gray Haired Sinner" from the "As A Child" CD


"Jesus Can Heal" from the "What Do Ya Do" CD and
"Sweetist Gifts" From the "Wish I Had A" CD


Wisdom from the "What Do Ya Do" CD and
"I've Got Jesus That's Enough" From the "Prepare Ye The Way of the Lord" CD


An advertisement for Dad's Place

Click here to listen to or buy all or any "Paul Ellingsen", "PBforJ", "Cece and Me" CD